Here are video highlights of the 2023 World Ice Hockey Championship matches in Latvia and Finland. Videos are sorted by date of posting.
---
#WorldCup2023 #Hockey #IIHF #WorldCupofHockey #Highlights
---
Highlights World Cup 2023
Recommended: Hockey World Cup 2023 standings
Highlights Hockey World Cup 2023 – brief and informative video overviews of the 2023 Hockey World Championship in Latvia and Finland. Each video is a snapshot of the match highlights, which are commented on by sports journalists.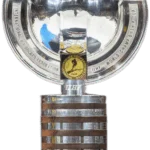 Hockey World Championship 2023 is an international annual competition in ice hockey under the auspices of the IIHF, which will take place from May 12 to 28, 2023. Group A games will be played in Tampere, Finland and Group B in Riga, Latvia. The official slogan of the tournament: "We live the game"
The tournament will be attended by 16 teams, which are divided into two groups of 8 teams each. Based on the results of the group stage, the top 8 teams qualify for the playoffs. The winners of the quarter-finals qualify for the semifinals and the winners of the semifinals reach the final.
Interesting fact! NHL stars from Sweden, the Czech Republic, Finland and Canada refuse to go to World Cup 2023 on various pretexts, as they are not interested in it without the Russian team. Famous players make up injuries on purpose, as the tournament has lost its "best vs. the best" format.
The top 3 most decorated teams in World Cup history:
Canada (27 gold, 16 silver, 9 bronze medals);
Russia (27 gold, 10 silver, 10 bronze medals);
Czech Republic (12 gold, 13 silver, 22 bronze medals).
---