We bring to your attention the Hockey World Championship highlights. The videos of the matches are sorted by the date of posting on the site.
---
#WorldChampionship #Highlights #Hockey #IIHFWorlds
---
Highlights
Recommended: Ice Hockey World Championship 2024
Hockey World Championship Highlights – brief and informative videos of the World Hockey Championship matches. Each video is a cut of the main moments of the match, commented by sports journalists.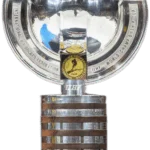 Ice Hockey World Championship is an international annual ice hockey competition under the auspices of the IIHF, which has been traditionally held in May since 1920.
The tournament involves 16 teams, which are divided into 2 groups of 8 teams each. Based on the results of the group stage, the top 8 teams qualify for the playoffs. The worst 2nd teams (ranked 8th) are eliminated in the first division of the championship.
The winners of the quarterfinals advance to the semifinals and the winners of the semifinals advance to the finals. The losing teams of the ½ final play each other in a match for 3rd place.
The winner of the tournament receives the title of "World Champion", gold medals, silver IIHF Cup and 1200 rating points. In addition to medals, 4 individual awards are presented at the World Cup of Hockey: Best Goaltender, Forward, Defenseman and Most Valuable Player (MVP).
Interesting fact! NHL stars from Sweden, the Czech Republic, Finland and Canada are refusing to go to the World Championship from 2022 on various pretexts, as they are not interested in it without the participation of the Russian national team. Famous players are deliberately making up injuries, as the tournament has lost its "best vs. best" format.
The top 3 most decorated teams in World Cup history:
Canada (28 gold, 16 silver, 9 bronze medals);
Russia (27 gold, 10 silver, 10 bronze medals);
Czech Republic (12 gold, 13 silver, 22 bronze medals).
The Russian and Belarusian national teams will not take part in the World Hockey Championship from 2022 due to the suspension of their membership in the international hockey federation IIHF.